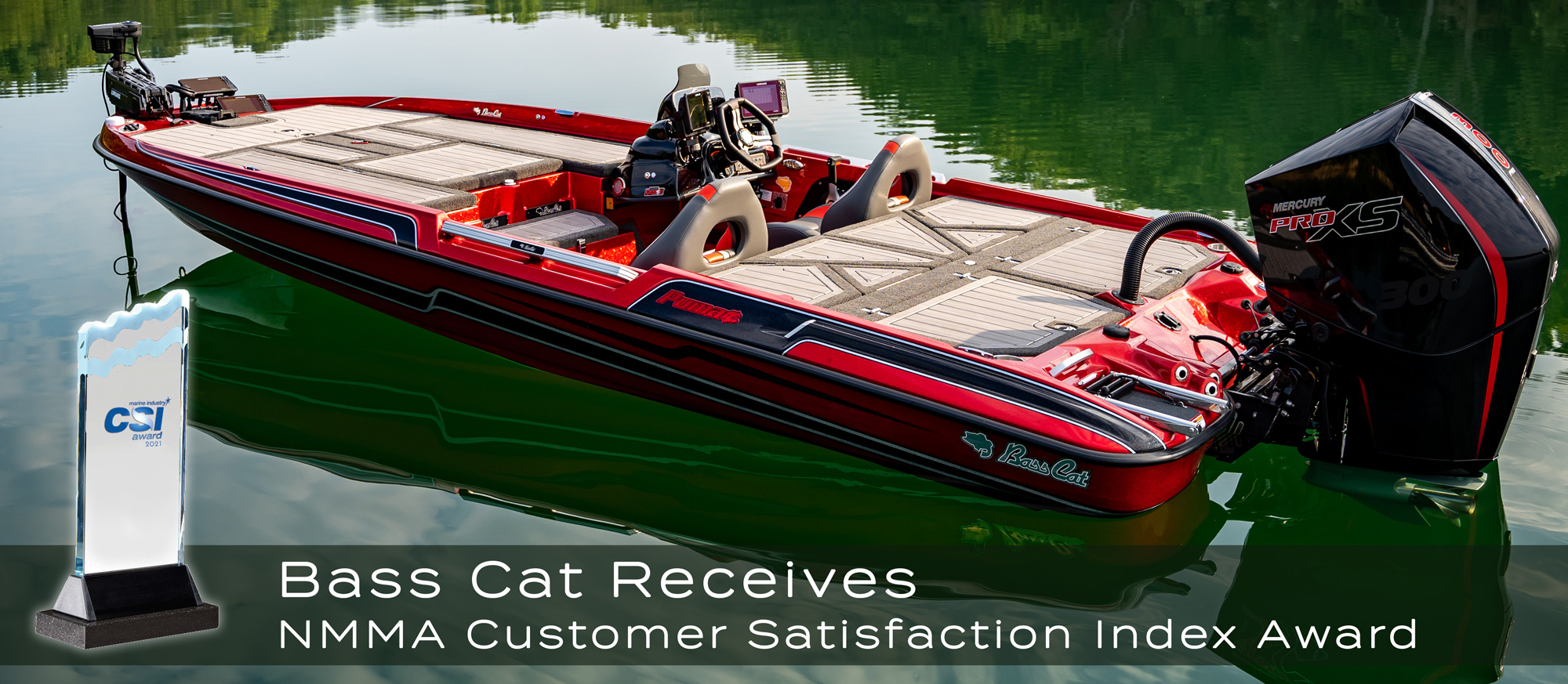 MOUNTAIN HOME, Ark. (February 21, 2022) – Bass Cat Boats, a leading high-performance bass boat manufacturer, is honored to receive the 2021 NMMA Customer Satisfaction Index (CSI) award.
Bass Cat was one of 57 manufacturers who attained a measure of excellence that exceeded 90 percent or higher in customer satisfaction over the past program year. This was based on information provided by customers purchasing a new boat or engine during the period between January 1, 2021 and December 31, 2021.
Bass Cat President, Rick Pierce, was delighted to once again receive the award but more importantly, recognize the company-wide efforts to put their customers first. "We appreciate the efforts our dealers and our staff required in order to earn another CSI award. For over 20 years we have monitored the data and our loyalty has remained well above 90%. That loyalty exists to a good part through these efforts to manage consumer issues, it extends the trust consumers have in our brands. This is also a great recognition of those on our team as we keep the pace to carry this through into 2022."
About Bass Cat: Bass Cat, owned by Correct Craft, manufactures the industry's premier bass fishing boats from its headquarters in Mountain Home, Arkansas. Family operated since its founding in 1971, Bass Cat is the longest continuously operating tournament bass boat company in the United States. For more information visit www.basscat.com.
About Correct Craft: Celebrating 97 years of excellence in the marine industry, Correct Craft is a Florida-based company with global operations. Focused on "Making Life Better," the Correct Craft family includes Nautique, Centurion, Supreme, Bass Cat, Yar-Craft, SeaArk, Parker, and Bryant boat companies, Pleasurecraft Marine Engine Group, Watershed Innovation and Aktion Parks. For more information please visit www.correctcraft.com