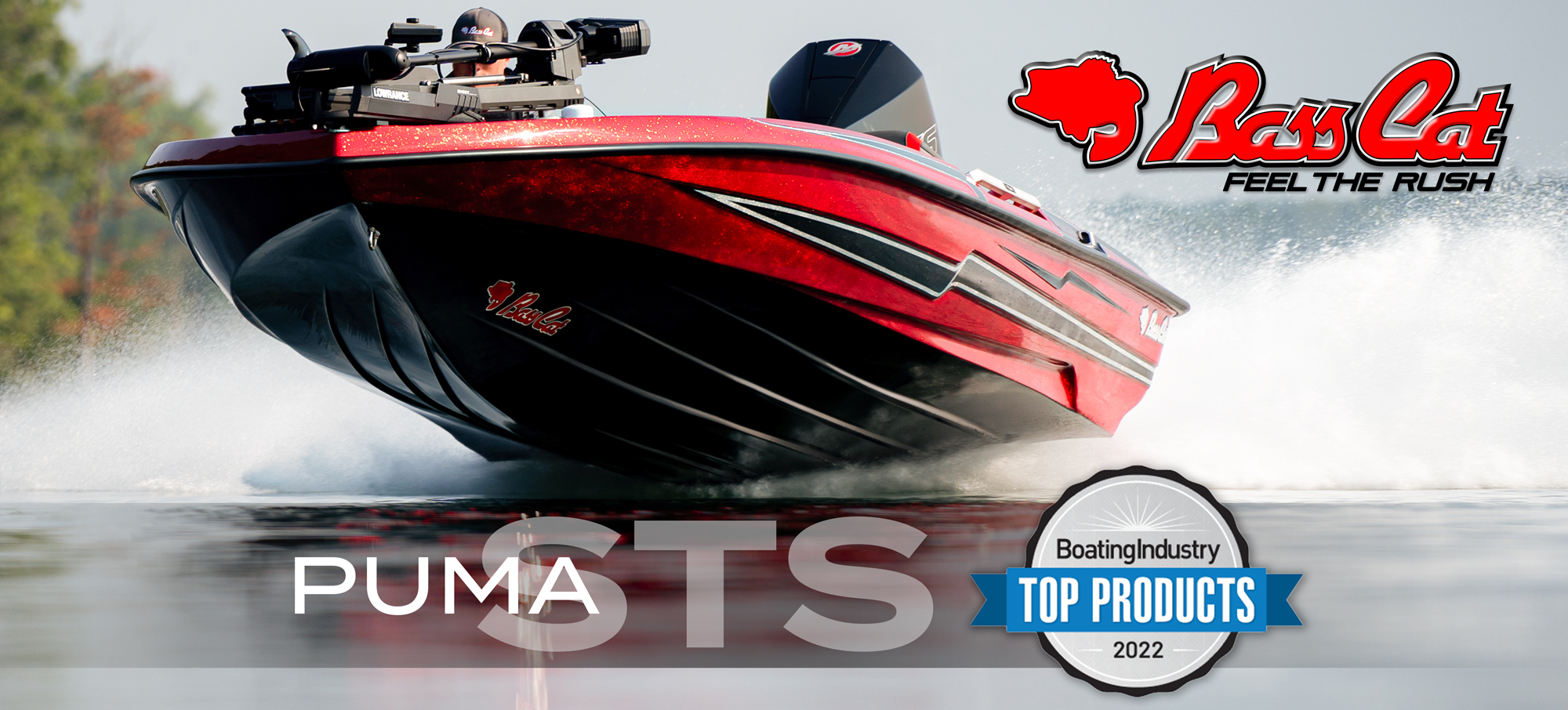 MOUNTAIN HOME, Ark. (May 2nd, 2022) – Bass Cat Boats marked the company's 50th year of operation by introducing the Puma STS, the company's newest 20-footer and the latest addition to the "Soft Touch" series. The innovative platform was rewarded not only with record-breaking initial sales, but also with a spot in Boating Industry magazine's 9th annual Top Products awards. These awards celebrate the marine industry's newest and most innovative products and services to recently hit the market, ranging from boat models to building components and everything in between. In order to be eligible for consideration, products or services had to have been introduced or significantly updated since January 2021.
This award comes in addition to the NMMA Innovation Award and the CSI Award that the brand has been honored with recently.
"We relish the fact that our high level of innovation and attention to detail have been recognized by consumers and industry experts alike," said Bass Cat President Rick Pierce. "After working to perfect this hull and layout for several years, we knew that we had a winner, and we are gratified to see that the public's response has bordered on overwhelming. We'll be building them as fast as we can for the foreseeable future."
The Puma STS is 20'7" long and is the second model, after the Jaguar, to feature the "Soft Touch" ride hull. Thanks to its improved and unbelievably dry ride, we expect this to be the leading choice on major tournament circuits across the world. It features the following innovations and additions aimed at making your day on the water more productive and more comfortable:
Proprietary "slam latches" that open and close easily with no chance of water intrusion into the underlying compartment
Dedicated shallow water anchor pump access
New billet designs
28 ounce premium marine carpet
Upgraded vinyl
Stainless steel brake lines
Reflex flooring – either cockpit option or hybrid deck option
Dedicated 4 gauge tinned wiring harness for new motors
Upgraded heavy-duty 6-gauge tinned electronics harnesses for power-hungry graphs
First-in-class lightning detector on Puma STS
Dealers have likewise been thrilled with the reception. Drew Sanford, owner of Boat WrX, the brand's number one dealer by volume last year, has been intrigued by the customers who've bought them. "In addition to the existing members of the Bass Cat family, we've sold the majority of them to people coming out of other brands," he said. "The key 20 foot space is a competitive landscape, and this boat combines the best of Bass Cat's legacy with the new features and performance attributes that customers demand."
This continued willingness to lead the pack cements the company's status not only as the longest continuously operating tournament bass boat company in the United States, but also the one by which excellence is measured.
For more information about Boating Industry's 2022 Top Products Awards, go to: https://boatingindustry.com/features/2022/04/28/boating-industrys-2022-top-products/
About Bass Cat: Bass Cat, owned by Correct Craft, manufactures the industry's premier bass fishing boats from its headquarters in Mountain Home, Arkansas. Family operated since its founding in 1971, Bass Cat is the longest continuously operating tournament bass boat company in the United States. For more information visit www.basscat.com.
About Yar-Craft: Celebrating over 50 years of excellence in the marine industry, Yar-Craft (owned by Correct Craft) is the premier walleye fishing boat in the world, known for excellent craftsmanship and customer service. For more information visit www.yarcraft.com.
About Correct Craft: Celebrating 97 years of excellence in the marine industry, Correct Craft is a Florida-based company with global operations. Focused on "Making Life Better," the Correct Craft family includes Nautique, Centurion, Supreme, Bass Cat, Yar-Craft, SeaArk, Parker, and Bryant boat companies, Pleasurecraft Marine Engine Group, Watershed Innovation and Aktion Parks. For more information please visit www.correctcraft.com