Three day event utilized new format
MOUNTAIN HOME, Ark. – Bass Cat Boats held the company's annual Owners Invitational this week as 237 teams converged on Lake Norfork in Arkansas seeking to earn the top prize and bragging rights. After two days of full-field competition using a modified "Tourney X" system of scoring, 26 teams competed on Day Three with standings zeroed out. Steven Meador and Joey Penzo of Arkansas brought five fish that weighed 13.29 pounds to the scales on Sunday to claim top honors and a prize of a Cougar FTD rigged with a 250 Pro XS Mercury.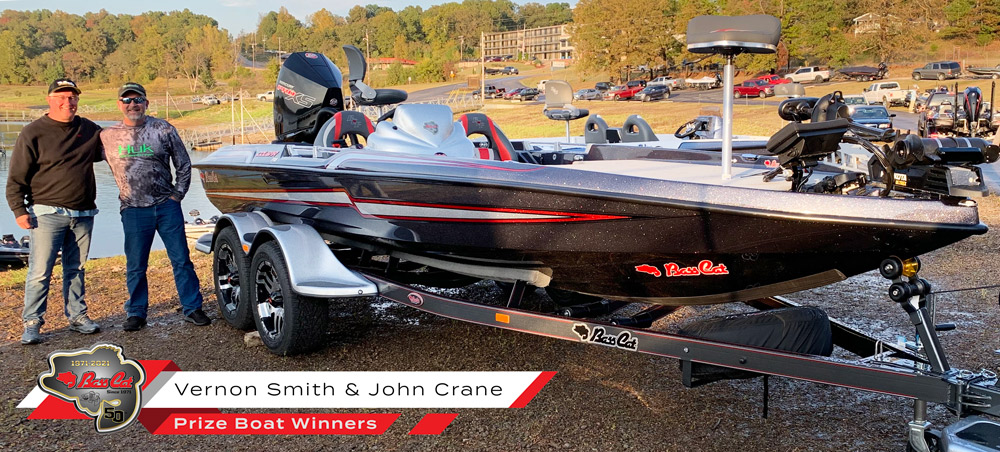 Gary Jeffrey and Larry Pinkston finished second with five bass that weighed 11.48 pounds. Chad Bleeker and Douglas Overstreet were third with 11.19. 
The competitors were challenged by a strong storm that rolled in at the end of Saturday's competition, raising the lake and leaving the Day Three qualifiers wondering if their fish would abandon them or get lockjaw. Ultimately, Meador and Penzo figured out the puzzle to claim the top prize.
There were also various "Wild Card" prizes given to teams finishing in specific spots, as well as prizes for the largest striped/hybrid bass, the largest Ozark Bass, and the largest walleye brought to the scales. The big bass of the event was a 5.22 pound largemouth caught by the team of Vern Deatherage and Kobby Roberts on Day Two. It earned them a prize of $1,888. The top three big bass on Days One and Two all earned cash awards. As with past Owners Invitational events, one random team was drawn out of hat to win a fully-rigged 2022 Bass Cat Cougar FTD, which was won by Vernon Smith and John Crane. Among the rubber ducks scattered throughout the lake, one was redeemed for a brand new Mercury outboard by Bob Parkhill and his grandson Ty.
The use of the Tourney X scoring system was meant both to make the weigh-in more efficient and also to limit in-person contact in what are hoped to be the waning days of the COVID-19 pandemic. This system is frequently used in kayak tournaments, and requires photographs of fish measurements. Some competitors may not have been used to the technology involved, but in the end it served its purpose well.
"I was a little bit skeptical at first," said third place finisher Chad Bleeker. "In the end, it impressed me with how user-friendly it was. I give credit to Bass Cat for altering it slightly to fit this format and I like the fact that we went back to zero for a third day shootout that produced a lot of drama."
Despite living in Arkansas, Meador and Penzo had not previously fished Norfork, but they were quick studies, covering 85 percent of the lake in practice in Meador's 2021 Cougar FTD. They flipflopped areas from Day One to Day Two, and then built what they'd learned into a winning pattern on championship Sunday. Topwaters and crankbaits were their primary tools.
Jeffrey and Pinkston caught key fish on a Loon colored Whopper Plopper 130, but when the bite tightened up they switched to Rite Bite jigs in Hot Peanut Butter and Jelly and Arkansas Craw. Four of their five weigh fish on Sunday were smallmouths and Jeffrey reported that they "fished clean" and never had the winning fish on the line.
Bleeker and Overstreet used a Strike King 5XD on inside channel swings near flats, the last deep water in a major creek arm, to advance to Sunday. When the lake came up overnight, they still managed to catch a kicker there in the final round, but the majority of their limit came throwing a Rat-L-Trap into 2 inches of water.
Next year's event is tentatively scheduled for Beaver Lake in April. 
"We look forward to April 22-24 and await permit approval," Pierce said. "It's a fun family location with a lot to offer and we want to close out our 50th Anniversary with a bang!"
For more information about the winning patterns, photos and results, visit the 2021 BCB OI Event Page
About Bass Cat: Bass Cat, owned by Correct Craft, manufactures the industry's premier bass fishing boats from its headquarters in Mountain Home, Arkansas. Family operated since its founding in 1971, Bass Cat is the longest continuously operating tournament bass boat company in the United States. For more information visit www.basscat.com.
About Correct Craft: Celebrating 96 years of excellence in the marine industry, Correct Craft is a Florida-based company with global operations. Focused on "Making Life Better," the Correct Craft family includes Nautique, Centurion, Supreme, Bass Cat, Yar-Craft, SeaArk, and Parker boat companies, Pleasurecraft Marine Engine Group, Watershed Innovation and Aktion Parks. For more information please visit www.correctcraft.com